We are now able to offer Linksys One Products with Partnership with Genesis Tech Inc.


Linksys One is a purpose built hosted solution that helps Service Providers to deliver a comprehensive, easy-to-use and easy-to deploy solution for the small business market.

Linksys One small business system can help integrate data networking, security, configuration back-up, and low-cost Voice-over-IP (VoIP) services with applications and other business services into one simple solution.

It can be customized to each company's specific requirements and can grow as a business grows with additional Linksys One Ready Switches and Network Storage Systems, Linksys One VoIP Phones, and other devices that instantly connect to and automatically install on the network.

Linksys One takes the burden of communications technology away, leaving growing businesses to focus on their business. Small businesses enjoy all the competitive advantages of a business-quality IP network that can grow as their business does.

The Linksys One solution is available from Genesis Tech an authorized Linksys One Value Added Reseller (VAR). Genesis Tech can install the Linksys One data networking or VoIP phone equipment directly on-site.

We can then have the ability to remotely manage some or all of the Linksys One devices on the small business customer's network, enabling those customers to focus their time and resources on their core business.

Software Release R2.0

The new software release (R2.0) provides enhanced data and voice features including: a PBX feature set designed to now support up to 100 users, multi-site voice and data (up to 5 sites) and teleworker capabilities, Single Number Reach and Device Mobility (The ability to "move" a call seamlessly between a Linksys One Phone and an alternative device, like a cell phone), new brand management capabilities, combined with the Linksys One automated configuration of customer premises equipment for simple and rapid deployment.

There are also more than 35 other features that were added to the R2.0 release.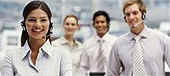 Linksys One New Products

New Linksys One Services Routers include:

SVR3500 - (2) Port T1/E1 Services Router with 24-Port PoE switch
SVR200 - Wireless-G ADSL2/2+/Ethernet Services Router with 4-Port PoE switch + 1FXS/FXO
Business class communications services can be delivered to the small business by a Linksys One Services Router, which requires only one internet connection for all business services including data networking, network security, applications, IP telephony, and highly secure Internet access.

The Linksys One Services Router provides the foundation of the Linksys One customer premises solution. Services Routers support connections to the Internet via DSL, cable or T1/E1. Integrated services include SPI Firewall, SIP Proxy, QoS, VLAN, SIP ALG and IEEE POE. SVRs provide auto-discovery and auto-configuration of Linksys One devices. The Services Router also offers cascaded expansion to other Linksys One Ready (or traditional Ethernet) Switches, Network Storage Systems and application servers.

The Linksys One Wireless-G Services Router (SVR200) provides a Services Router option with integrated ADSL2/2+ and 10/100 Ethernet WAN options for flexible deployment. The SVR200 provides a network infrastructure solution for remote SOHO teleworkers or small offices because it integrates an 802.11g access point, FXS/FXO ports (US only), integrated broadband access interfaces, Power over Ethernet, and a SPI Firewall with hardware-accelerated VPN services.

SVR200 Features:

Integrated ADSL2/ADSL2+ with 10/100 Ethernet WAN Options
4 ports of Fast Ethernet LAN switching with IEEE 802.3af Power over Ethernet
Wireless security and VLANs to provide separate highly secure networks
Hardware accelerated VPNs and support for highly secure teleworker and multi-site solutions
The Linksys One Services Router (SVR3500) has (2) T1/E1 Port with an integrated 24-Port PoE Switch and onboard software that integrates security, reliability and quality of service to support business quality Linksys One communications services.
SVR3500 Features:

High Speed WAN Interfaces Including: Dual T1/E1 Ports and 10/100 Ethernet
Fully Powered (24) Ports of 10/100 PoE and Dual 10/100/1000 Uplink Ports
Advanced Security Features: Hardware Accelerated VPN, SPI Firewall, and 802.1q VLAN, SIP ALG
Advanced QoS Support For Real-Time Applications: 802.1p, DiffServ, & Traffic Shaping
Both the SVR200 and the SVR3500 are available today through Genesis Tech Inc.
Linksys One Ready Products

"Linksys One Ready" products are best-in-class networking products that can operate in a stand-alone networking environment.

At the same time, "Linksys One Ready" products can migrate to a Linksys One solution - if and when the administrator decides to implement a Linksys One deployment.

Many Linksys Business Series products carry a "Linksys One Ready" designation. "Linksys One Ready" identifies that the product carries specific Linksys developed software that enables the 'stand-alone' device to automatically be discovered, authenticated and integrated into a Linksys One environment. The Linksys One ready products are also compatible with R2.0.
Linksys One Ready products are currently shipping and available today through Genesis Tech Inc.:

SFE2000 - Managed Switch with 24-port 10/100 and 4 10/100/1000 ports with stacking
SFE2000P - Managed switch with 24-port 10/100, 4 10/100/1000 ports, and PoE and stacking
SGE2000 - Managed switch with 24-port 10/100/1000 with 4 shared SFP slots with stacking
SGE2000P - Managed Switch with 24-port 10/100/1000 with 4 shared SFP slots, PoE and stacking
NSS4000/4001 - 4 Drive Bay Gigabit Network RAID Storage System
NSS6000/6001 - 4 Drive Bay Advanced Gigabit Network RAID Storage System Network with Storage Virtualization of RAID Sets
RPS1000 – 380W RPS Unit provides power redundancy for up to 6 devices