X-ten X-Lite / X-Pro
NOTE: Please do not try to use the # key to send a call as it will be interpreted as part of the phone number. Use the green phone symbol or the enter key instead.
STEP 1:
Please right click on any part of the softphone.
Please select "SIP Account Settings" and click on "Add".
STEP 2: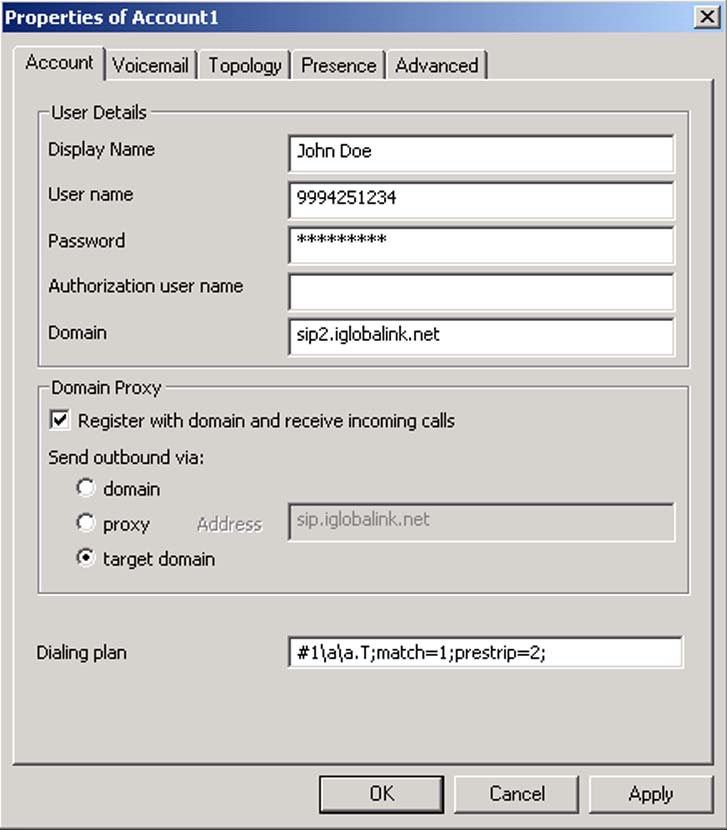 Please enter your information in the the fields as listed below :-

Display Name:
Enter your Full name, this will show up as part of your caller id.

User Name:
Enter the phone number you chose when you signed up for Globalink service.

Password:
Enter the password that you chose when you signed up for Globalink service.

Domain: sip2.iglobalink.net or sip3.iglobalink.net:80 etc (please refer to email from support)

Enable (check) "Register with domain and receive incoming calls"
Enable (check) target domain for "Send outbound via :"

STEP 3:
Dial *98 to check your messages
You may also check your messages online at Worldkom.Net.
If you have sufficient credit on the account, you will be able to make calls to any landline or mobile number.

Dial *11 to hear your balance.

Please dial only country code and number as follows :-

For an example: If you are calling United Kingdom, please only dial 44 xxx-xxx-xxxx.
It is not necessary to dial any preceding numbers like 00.
If you need help please submit ticket at http://globalink.us/support with your account information.